Rant & Rave: 30 Rock Finale: Hogcock!/Last Lunch
Rating: 4.0
For the last seven years, Tina Fey has crafted humorous stories with her semi-autobiographical TV comedy, 30 Rock. While it has received three Outstanding Comedy Series trophies from the Emmys, a problem the show has been going through ever since it started are its dismal ratings. When NBC announced that it was going to officially end the series with 13 episodes, Alec Baldwin, who portrays Jack Donaghy, offered a salary cut to sustain the show, but the company didn't budge. As the countdown began towards the finale, one had wondered how Tina and company would pull off a satisfying yet Emmy-deserving ending.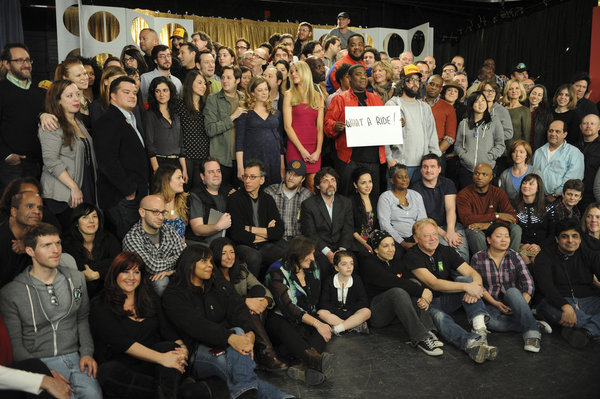 Fast forward to episode 12, and the writers have given audiences a finale that tugs at the heartstrings yet makes you reflect on references and past memories of characters. After pulling together a season of political hijinks, gender debates and personal crises, the hour-long finale made sure that it closed the book perfectly. Tina Fey's Liz Lemon is starting to live a happy life with husband Criss Chros, played by James Marsden, and their two adopted twins, Terry and Janet, when she realizes that being a stay-at-home mom is not what she is. Meanwhile, Jack Donaghy, portrayed by Alec Baldwin, is transitioning from becoming NBC president to Kabletown CEO yet he still thinks that something is missing in his life; to be his replacement for the NBC presidency, Donaghy chose Jack McBrayer's Kenneth Parcell, the lovable page who adores television, and who is now enjoying his position as president. Lemon then approaches Parcell for a job to sustain her new family with ideas for a specific show but Kenneth turns her down, saying that television should be dedicated to what people like.
The whole finale also focuses on the cancellation of TGS and the clauses in the contract of TGS's main star Tracy Jordan, which states that if the team doesn't produce 150 episodes, Jordan will receive $30 million dollars. The climax of the finale, however, takes place when Liz and Jack argue about how they wasted seven years on each other. Jack argues that work won't make a person happy and that Liz should just focus on what gives her joy. Liz snaps back, saying that she was happy with what she had before Jack mentored her, and that she felt stupid for believing someone who didn't even know himself.
The finale isn't the best episode of the whole series, but it did provide great stories and plot points that showed how people react when something is nearing its end. Jenna Maroney, star of TGS, had a hard time expressing her true feelings as TGS ends, but when her mirror, the symbolism of vanity, pride and reality of Hollywood, is taken away, she immediately realizes that everything is ending, and then she cries, unraveling the true sensitive nature of the arrogant comedienne. Jane Krakowski, who played Jenna from the beginning, deserves an Emmy for her multi-faceted performance in this episode not only because she was snubbed since, but because her different layers of acting were tested, yielding excellent moments of comedy and drama.  On the other hand, Tracy Morgan's character, Tracy Jordan, felt the need to halt the end of TGS because he didn't want to say goodbye to everyone; he also explained to Liz that all his life, goodbyes have been thrown and at him and that he doesn't want to do that because he can't. Honestly, Morgan's last turn as Jordan was riveting mainly because he was serious and not kooky like the earlier episodes; his last portrayal meant that if the others are crazy at goodbyes, Jordan didn't want to so he did everything in his power to make it last longer, or if time permits, forever. Performance wise, Krakowski did much better acting because of the emotions conveyed during the course of the episode.
Tina Fey also turned in an impeccable performance as the woman who was determined to bring TGS into a satisfying close, an approach that parallels her work to finish 30 Rock on a high note. In the last hour of 30 Rock, however, she showed a kind of vulnerability when Jack faked his suicide as Lemon snubbed him after their heated argument.
Fey deserves another Emmy under her belt for the last season of 30 Rock. Alec Baldwin showed a major change for his character not because it was needed, but also because Baldwin is capable of being dramatic yet slightly funny at the same time. Suddenly, Donaghy becomes sadder and seems older; the transition from powerful president to uninspired CEO is tiring even for a man who embodies a shark or the Princeton University everyman. Baldwin showcased a versatility that needs at least one last comedic Emmy for the Republican capitalist CEO.
All In all, the 30 Rock series finale has managed to pull 4.88 million viewers during the course of an hour; it was the biggest audience 30 Rock has seen for the last 2 years, but they deserve more because the 30 Rock ending is a milestone for TV. The finale invokes a sense of nostalgia because it displays what 30 Rock is – brilliant, witty and absolutely funny.
When Kenneth Parcell was instructed to be the new NBC president, it felt like a homage to the fans of the show who didn't want "garbage" to replace 30 Rock; Parcell was the metaphor for a TV fan who loves the mystic and wonder television brings to him. It is the true end of an era of great comedy, and tears were shed; 30 Rock spreads that notion throughout the finale. The bar has been set so high for comedy that no show has the ability to be compared to 30 Rock, let alone replace it.
As life goes on, the little insights and values will live on from that little show that could, the series that people underestimated. 30 Rock is a piece of real television that is heartfelt and sincere to the core, and it will be missed dearly.